October 30th, 2017 by

erixavero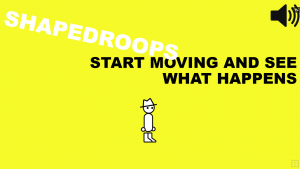 Heavily inspired by Hatfall, game by Ben "Yahtzee" Croshaw.
A simple game about recognizing shapes, quick-thinking, and time-wasting action. Targeted mainly towards children kindergarten to elementary school age.
Most compatible on PC.
Game objective: Collect the shape as stated by the text shown at the start of each round based on the shape of the shadow
Movement controls:
Keyboard left/right arrow keys and A/D keys
On-screen left/right arrow for touch screen users
Tap speaker button in the screen corner or press M on keyboard to mute sound
Known issue(s):
Mobile users may experience low frame rate and/or lost audio
May be incompatible for all browsers
Font style used may not be supported by certain browsers resulting in words slightly misplaced
References:
Character sprite: Zero Punctuation – Ben "Yahtzee" Croshaw
Menu music: Persona 4 OST
Game music: Bad Bully – Satoru Kousaki
Sound effects

Score: Cyanide and Happiness
Penalty: Crash Bandicoot

Assets editing: Photoshop
Music editing: Audacity
Click here to go to itch.io and play the game.
Posted in final project, multimedia |

No Comments »